Jan 12, 2010: Garage Door, Doors, Sun

Doors are installed

---
There hasn't been a lot happening at the house that is very noticeable pictorially. Mostly interior wall framing. I'll get some interior shots and post them when they are done and it's easy to tell what things are.
This week the doors did arrive, so the garage and rear house doors were installed. The front door should be in soon too. As things are slower on the house now, we will be adding information on the house design and the design of efficient houses in general. After all, we want all houses to be built with efficiency in mind!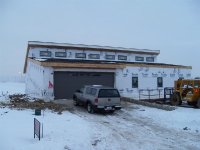 Here is the installed garage door. It has windows along the top in a sunburst pattern. It is an insulated door with foam filled panels giving an R value of 9. The garage will be unconditioned, but act as a buffer to the outside.
This is the back door. From the outside it looks like a regular exterior door.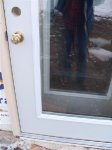 It is however; two doors. The 12″ thick SIP walls allow enough space to put two full doors in the frame. This provides with an air buffer space between the two insulated doors to minimize heat transfer between the interior and outside.
We did have a couple of sunny days recently despite the below zero temperatures. Here are some interior pictures that show the sunlight entering the main living areas. An infrared thermometer was used to measure the temperature of the wall both where the sun was shining and where it was shaded. It was 50F where the sun hit the wall and 30F where it was shaded. A nice heat gain.
Here is the solar system. Snow doesn't stick too well and what does stick doesn't stay for long as the dark cell color warms up pretty well in the sunlight. We are pretty close to having the final wiring done and being able to connect the solar system. Hopefully next week this will be done.
Next Post: Jan 21, 2010: Equinox Overhang Eaves
Previous Post: Jan 6, 2010: Windows
Archives

▶

2012

(1)

▶

2010

(47)

▶

2009

(29)